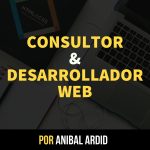 Mi semana personal y laboral:
Se viene el episodio numero 100
DemosWP.com sufriendo ataques, se viene el envio newsletter con novedades
Probando nuevos servidores (cpanel, webmin, virtualmin, plesk, etc)
Empezando a conocer algo de kubernetes
SemanaWP estuvo mi charla, les dejo el link para los que no la pudieron ver la mia o las otras: https://semanawp.com/ediciones/swp5/
---
Novedades tecnológicas y notas interesantes:

DuckDuckGo, probamos la alternativa al buscador de Google que no rastrea al usuario – https://www.tuexperto.com/2019/05/19/duckduckgo-probamos-la-alternativa-al-buscador-de-google-que-no-rastrea-al-usuario/
DuckDuckGo es un buscador de Internet que se plantea como una alternativa a Google y Bing. Las principales características de este buscador son la sencillez, el minimalismo y la mayor privacidad respecto a otros buscadores más consagrados.

Top 10 Most Popular Frameworks for Responsive Web Development – https://www.noupe.com/development/top-10-most-popular-frameworks-for-responsive-web-development.html
Thanks to the growing use of mobile devices for Internet browsing, the demand for responsive web development continues to skyrocket with each passing day. On the other hand, web development standards are constantly growing with the complexity of modern technologies.

Finding PHP and WordPress Backdoors using antivirus and Indicator of Compromise
https://blog.wpsec.com/finding-php-and-wordpress-backdoors-using-antivirus-and-indicator-of-compromise/
Inmunes a la crisis: cobran los mejores salarios, las empresas se pelean por ellos y ya prevén otro aumento del 45%
https://www.iproup.com/economia-digital/4681-emprendedor-emprendimiento-innovacion-tecnologica-Sueldos-inflacion-cuanto-pagan-en-tecnologia-y-servicios-de-conocimiento
GitHub Sponsors – https://github.com/sponsors
GitHub crea Sponsors, su propia plataforma para la financiación pública proyectos open source – https://www.genbeta.com/desarrollo/github-crea-sponsors-su-propia-plataforma-para-financiacion-publica-proyectos-open-source
GitHub, propiedad de Microsoft y uno de los sitios webs más conocidos por la comunidad de desarrolladores para alojar y administrar su código, inaugura una nueva plataforma mediante la que los desarrolladores podrán dar mejor visibilidad a sus vías de financiación, así como recibir donaciones

The 10 Best Atom Themes for a Unique Developer Experience – https://www.developerdrive.com/2019/05/best-atom-themes-developers/
Atom is one of the most popular code editors on the market, developed and maintained by GitHub. It comes with multiple awesome features such as a built-in package manager, smart autocompletion, and cross-platform editing.

Cómo iniciarse en la Raspberry Pi 3B+ – https://www.tuexperto.com/2019/05/23/como-iniciarse-en-la-raspberry-pi-3b/
La Raspberry Pi 3B+ es una pequeña placa de desarrollo, que nos permite montar un ordenador de una forma muy rápida y por un precio muy ajustado. Este pequeño dispositivo ofrece un sinfín de posibilidades.
Es muy buena para hacer proyectos, automatizaciones de hogares y muchas cosas mas. Se puede tener varias opciones de proyectos de negocios.
---
WordPress:

25 Best Gutenberg Friendly WordPress Themes (2019) – https://www.wpbeginner.com/showcase/gutenberg-friendly-wordpress-themes/
Are you looking for the best Gutenberg friendly WordPress themes? Gutenberg is the new WordPress block editor introduced in WordPress 5.0. It is incredibly fast, more visual, and offers new ways to create content layouts for your WordPress posts and pages.

WordPress Notification Bar Plugins – https://wplift.com/wordpress-notification-bar-plugins
You may have noticed recently a fairly new trend of javascript powered bars which slide in from the top of a site or at the bottom. They are used for things like capturing newsletter signups, RSS subscribers or directing people to a special offer / blog post etc.

5 Free WordPress Content Restriction Plugins – https://www.cozmoslabs.com/158375-5-free-wordpress-content-restriction-plugins/
WordPress content restriction plugins offer simple ways to restrict content in WordPress without hassle. Using them you can easily charge for premium content or build pages only members of your organization and specific users have access to.

Introducing Hello Theme: The Fastest WordPress Theme Ever Created – https://elementor.com/blog/introducing-hello-theme/
Many of you already know, love and use Elementor's Hello theme, but this week, our starter theme was officially added to the WordPress repository, so we figured our baby deserves a formal baby shower. ? Having Hello available in the official WP repo is a big deal.

6 Best WordPress Security Plugins – http://www.webdesigndev.com/best-wordpress-security-plugins/
WordPress is one of the most popular content management system on the Internet today. It powers millions of websites. WordPress CMS is free and open-source which makes it very popular. Unfortunately, for the same reason, WordPress is a juicy target for hackers.

WordPress 5.2.1 Maintenance Release – https://wordpress.org/news/2019/05/wordpress-5-2-1-maintenance-release/
WordPress 5.2.1 is now available! This maintenance release fixes 33 bugs, including improvements to the block editor, accessibility, internationalization, and the Site Health feature introduced in 5.2. You can browse the full list of changes on Trac.

Backup, Restore and Transfer WordPress Sites with WPvivid – https://www.wpexplorer.com/wpvivid-backup-plugin-review/
If you've ever broken your WordPress site (and who doesn't at least once?), you definitely know the value of a sound backup plan. A solid backup strategy is a must-have precautionary part of any good WordPress security strategy.

The Complete WooCommerce Guide – https://elementor.com/blog/woocommerce-tutorial/
While WordPress is mainly known as a blogging solution, it is also an ecommerce powerhouse. The platform enables you to build large and complex online stores and sell goods online. In this WooCommerce tutorial, you will learn one way of doing so.

15 of the Best WordPress Podcast Themes – https://www.codeinwp.com/blog/wordpress-podcast-themes/
There's no doubting that the audience for podcasts is increasing steadily. Podcasts have become a convenient way for people to catch up on their favorite shows, listen to music or stay in touch with current news while on the go.

Colibri: An Innovative WordPress Page Builder Solution – https://wpmayor.com/colibri-an-innovative-wordpress-page-builder-solution/
If you've spent any time looking for WordPress plugins online, chances are you've encountered page builders. These handy tools make it easier for non-coders to design attractive sites with lots of cool features.

WordPress Automation: 13 Ways to Automate Tasks and Save Your Time – https://www.solwininfotech.com/blog/wordpress/wordpress-automation/
Dozens of advantages accrue to WordPress site owners.

¿Por qué a los clientes les gustan los maquetadores web? – https://ayudawp.com/maquetadores-web/

GenerateWP – https://generatewp.com/
---
Internet y herramientas:

23 Electron Applications You Should Know About – https://www.omgubuntu.co.uk/2019/02/best-electron-apps
Here we present the best Electron applications available for Linux desktops, including Ubuntu, as well as macOS and Windows too. We've written about a lot of diverse Electron apps over the past few years, ranging from desktop podcast clients to popular IDEs.

remove.bg ya permite borrar el fondo de muchas imágenes a la vez – https://wwwhatsnew.com/2019/05/20/remove-bg-ya-permite-borrar-el-fondo-de-muchas-imagenes-a-la-vez/
Hace varias semanas os hablamos de remove.bg como un servicio online que eliminaba el fondo de las imágenes de forma automática. Solo teníamos que subir la imagen deseada y el programa hacía el resto: dejaba el primer plano (objeto o persona) y eliminaba lo demás. Remove.

Streamline 3.0 | Iconos – The world's largest icon library – https://app.streamlineicons.com/streamline-regular/interface-essential
Tiene packs de pago

Adobe Premiere Rush, el editor de vídeos de Adobe, llega a Android (pero no a todos los móviles) – https://www.xatakandroid.com/aplicaciones-android/adobe-premiere-rush-editor-videos-adobe-llega-a-android-no-a-todos-moviles
Adobe tiene ya una amplia suite de aplicaciones para móviles. La empresa creadora de Photoshop tiene una versión de dicha aplicación adaptada a smartphones, Lightroom, Acrobat, Spark y, tras ser lanzado inicialmente en iOS, Adobe Premiere Rush.
Firefox ScreenshotGo: la aplicación de Mozilla para buscar y organizar tus capturas de pantalla en Android – https://www.xatakandroid.com/productividad-herramientas/firefox-screenshotgo-aplicacion-mozilla-para-organizar-tus-capturas-pantalla-android
Las capturas de pantalla es la forma más rápida y la mejor de tener una copia de lo que estamos viendo en pantalla en ese momento, como por ejemplo el justificante de una compra, el código de una entrada, una oferta o un mensaje importante.

---
Y con esta última noticia llegamos al final de este episodio.
Te pido que me hagas llegar cualquier sugerencia, consulta,o recomendación de herramienta.
Me pueden contactar desde mi página web ardid.com.ar, donde pueden acceder a todas las notas del podcast y conocer todos mis servicios.
Muchísimas gracias por compartir este episodio, comentar y valorarlo en las plataformas de podcasting y aún más si puedes suscribirte a este podcast.
Te espero el miércoles para un próximo episodio!
---
Contacto:
Web: https://ardid.com.ar
Twitter: https://twitter.com/aardid
Instagram: https://instagram.com/anibalaxelardid
Linkedin: https://www.linkedin.com/in/anibalardid/
Plataformas donde pueden encontrar el Podcast:
Youtube: https://www.youtube.com/user/anibalardid
Ivoox: https://ar.ivoox.com/es/podcast-consultor-desarrollador-web_sq_f1622538_1.html
Apple Podcast (Itunes): https://itunes.apple.com/ar/podcast/consultor-y-desarrollador-web/id1438230983?mt=2
Spreaker: https://www.spreaker.com/show/emprendedores-y-freelancers
Spotify: https://open.spotify.com/show/3yxFHne9ULZyJLiHucrmcW?si=rDNv36bUShKA1Ksr3n_jgA
---
---
¿Todavía no miraste el MEGA LISTADO de herramientas para freelancers y emprendedores?
---