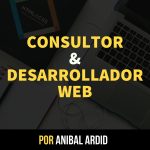 Muy buenos días qué tal ? Espero que les haya sido leve esta semana larga, luego de la semana corta anterior 😉
Ahora si vamos a las noticias!!
Mi semana personal y laboral:
Se viene rediseño en el dashboard DemosWP.com
Estoy haciendo negociaciones con SiteGround, el hosting lider del mercado, para poder tenerlo como patrocinador principal en DemosWP.com
En la oficina sigo con el gateway/proxy/wrapper (Apache Camel) para hacer pasaje de requests a otros formatos
En proyectos personales estoy haciendo una web de cursos para un conocido que cuando ya la tenga lista y subida lo voy a comentar bien en detalle
Y también terminé de hacer unos videos para un taller que va a salir a mediados/fines de mayo
Novedades tecnológicas:
Llega dmail, servicio de correo electrónico basado en Blockchain – https://wwwhatsnew.com/2019/04/19/llega-dmail-servicio-de-correo-electronico-basado-en-blockchain/
Tenía que llegar tarde o temprano, dados los avances que se están produciendo en base a la tecnología Blockchain. Nos referimos a los servicios de correo electrónico descentralizados basados en Blockchain.

How I configure VSCode for Everything – https://hackernoon.com/how-i-configure-vscode-for-everything-7df65a316a52
VSCode is a powerful tool, in the right hands!

Facebook Developer Conference – https://www.f8.com/
30 de Abril y 1ero de Mayo.

Google I/O 2019 ya tiene aplicación oficial: así puedes seguir el evento más importante de Android – https://www.xatakandroid.com/aplicaciones-android/google-i-2019-tiene-aplicacion-oficial-asi-puedes-seguir-evento-importante-android
El próximo 7 de mayo comenzará el Google I/O 2019, el evento más importante de la compañía del buscador y de nuestro sistema operativo móvil favorito.

Últimos cambios y actualizaciones en el algoritmo de YouTube (guía actualizada) – https://blog.hubspot.es/marketing/cambios-y-actualizaciones-algoritmo-youtube
El trabajo de los profesionales del marketing depende enormemente de los algoritmos de casi todos los canales de publicación. Por ese motivo, es esencial que sepan cómo funciona cada uno de ellos para poder crear una audiencia y conservarla.

11 Increíbles blogs para aprender a hacer Marketing de Afiliación – https://hoymarketing.com/mejores-blogs-aprender-marketing-afiliacion/
El marketing de afiliación es un tipo de publicidad online que cada vez está más de moda.

MailChimp, el aliado perfecto para tu email marketing – https://www.haciaelautoempleo.com/mailchimp-email-marketing/
MailChimp es una herramienta magnífica que te permitirá crear tu lista de suscriptores, gestionar tus campañas y tus autoresponders. Es mucho lo que habría que ver sobre MailChimp, por eso he subido un video de una hora y aquí añado más cosas, pero vayamos por partes.
WordPress:
WordPress 5.2 Release Candidate
https://wordpress.org/news/2019/04/wordpress-5-2-release-candidate/
No mucho que decir, esta a punto de salir la versión final de WP 5.2, dejo el enlace con la noticia.

How to Send Your First Newsletter from WordPress using MailPoet – https://wplift.com/send-newsletter-from-wordpress-using-mailpoet
In this tutorial, we'll show you how to set up a newsletter campaign in WordPress for free, using the MailPoet plugin. Traditionally speaking, sending newsletters required signing up (or even paying for) email marketing services. Things have dramatically changed with the advent of WordPress.

PluginVulnerabilities.com is Protesting WordPress.org Support Forum Moderators by Publishing Zero-Day Vulnerabilities – https://wptavern.com/pluginvulnerabilities-com-is-protesting-wordpress-org-support-forum-moderators-by-publishing-zero-day-vulnerabilities
A security service called Plugin Vulnerabilities, founded by John Grillot, is taking a vigilante approach to addressing grievances against WordPress.org support forum moderators.

AMP Plugin for WordPress 1.1 Adds Experimental PWA Plugin Integration, Pre-release of AMP Stories Editor Available in 1.2-alpha – https://wptavern.com/amp-plugin-for-wordpress-1-1-adds-experimental-pwa-plugin-integration-pre-release-of-amp-stories-editor-available-in-1-2-alpha
Version 1.1 of the AMP Plugin for WordPress was released this week after four months in development and 125 merged pull requests from contributors.

Effortlessly Design Your Website with $50k Worth of WordPress Themes, Plugins & Templates – https://stacksocial.com/sales/storeshock-lifetime-subscription
You don't need years of programming experience to design a beautiful website; you just need Storeshock. Featuring a vast selection of WordPress themes, plugins, web elements, and web packages, Storeshock streamlines the site building process.

Nobuna | +2500 Premium WordPress & WooCommerce Plugins & Themes. – https://www.nobuna.com/
Repositorio con plugins y plantillas premium

Elementor vs. Thrive vs. Gutenberg – Page Speed Comparison – https://torquemag.io/2019/04/elementor-vs-thrive-vs-gutenberg-page-speed-comparison/
The advent of WordPress has pretty much ended all the hassles of creating beautiful websites, and page builders made the entire process easy for those without the gift of code. WordPress page builders are plugins that allow users to make edits in the page via a simple drag and drop method.

Elementor Performance Tests Vs Normal Theme – https://www.wpdoze.com/elementor-performance/
In this article, I would like to present you a performance load test over Elementor page builder to see exactly how much is increasing your page load time. These days is important to have a fast loading site to be better for your visitors and have a more good bounce rate.

El nuevo panel de administración de WooCommerce (y cómo probarlo) – https://www.enriquejros.com/panel-administracion-woocommerce-admin/
Hace tiempo que Automattic quiere hacer algo con el panel de administración de WooCommerce: demasiadas consultas a la base de datos, que a veces hacen que la gestión de la tienda, especialmente si tiene mucha cantidad de pedidos, se haga algo pesada.

Boost Your Store's Performance and Pages with WooCommerce 3.6 – https://woocommerce.com/posts/boost-your-stores-performance-pages-with-woocommerce-3-6/
Much has been happening behind the scenes at WooCommerce since the release of 3.5 in October 2018. The team has been working hard on a variety of improvements that are now available in WooCommerce 3.6. Throughout the build process of WooCommerce 3.

8 Best Import / Export WordPress Plugins – https://www.wpexplorer.com/import-export-wordpress-plugins/
Any website that's been around for sometime begins to collect data in it's database. Whether it's users, customers, images, themes, posts, SEO or anything else, it finds a place inside your WordPress. Sometimes, you may want to move this data around to other places.

AliDropship Review: Create a WordPress AliExpress Dropshipping Store – https://wplift.com/alidropship-review
Want to start dropshipping with AliExpress on WordPress? In our AliDropship review, we'll give you a look at a tool that lets you create a working dropshipping store without the need for an eCommerce plugin.

Internet y herramientas:
The Complete JavaScript UI Controls Library – https://www.syncfusion.com/javascript-ui-controls
The Syncfusion JavaScript UI controls library is the only suite that you will ever need to build an application since it contains over 50 high-performance, lightweight, modular, and responsive UI components in a single package.

Llega Swoot, la aplicación social de podcasting – https://wwwhatsnew.com/2019/04/18/llega-swoot-la-aplicacion-social-de-podcasting/
Llega Swoot, la nueva aplicación de Pete Curley y Garret Heaton, fundadores de HipChat, su plataforma de comunicación por chat para equipos de trabajo, ahora en manos de Atlassian, con la que pretende ofrecer características sociales al mundo del podcasting para facilitar el descubrimiento.

Darwin Mail – https://www.darwinmail.app/
Darle a GMAIL funcionalidades y una interface como tenia google Inbox.

A beginner's guide to Docker — how to create a client/server side with Docker-Compose – https://medium.freecodecamp.org/a-beginners-guide-to-docker-how-to-create-a-client-server-side-with-docker-compose-12c8cf0ae0aa
After a short introduction on Docker-Compose, you will be able to create your first client/server-side application with Docker. Docker-Compose is a tool provided by Docker. To make it simple, this tool is implemented to solve architectural problems in your projects.

Top Ten Open Source Tools for Web Developers – https://opensourceforu.com/2019/04/top-ten-open-source-tools-for-web-developers/
Web apps load like regular Web pages or websites. Their functionalities include working offline, push notifications, and device hardware access that was traditionally available only to native mobile apps. Web development plays an important role in the Internet ecosystem.

Download Cookie Consent – https://cookieconsent.insites.com/download/
This website was created with love by Insites. We hate the stupid cookie law, and decided that if we had to comply with it, we may as well create a solution that doesn't suck. Insites helps organisations test and improve their websites. Learn more about us

DragonRuby: kit de herramientas multiplataformas para hacer videojuegos con Ruby – https://blog.desdelinux.net/dragonruby-kit-de-herramientas-multiplataformas-para-hacer-videojuegos-con-ruby/
DragonRuby es un kit de herramientas para ayudarte a crear videojuegos usando el lenguaje de programación Ruby. Está disponible para múltiples plataformas, entre ellas Linux. Ryan "Icculus" Gordon, alguien que conoceréis por haber creado diversos ports para LInux y por SDL2, etc.

scaleflex/js-cloudimage-360-view – https://github.com/scaleflex/js-cloudimage-360-view
To see the Cloudimage 360 view plugin in action, please check out the Demo page. The selector for js-cloudimage-360-view lib.

---
Y con esta última noticia llegamos al final de este episodio.
Te pido que me hagas llegar cualquier sugerencia, consulta,o recomendación de herramienta.
Me pueden contactar desde mi página web ardid.com.ar, donde pueden acceder a todas las notas del podcast y conocer todos mis servicios.
Muchísimas gracias por compartir este episodio, comentar y valorarlo en las plataformas de podcasting y aún más si puedes suscribirte a este podcast.
Te espero el miércoles para un próximo episodio!
---
Contacto:
Web: https://ardid.com.ar
Twitter: https://twitter.com/aardid
Instagram: https://instagram.com/anibalaxelardid
Linkedin: https://www.linkedin.com/in/anibalardid/
Plataformas donde pueden encontrar el Podcast:
Youtube: https://www.youtube.com/user/anibalardid
Ivoox: https://ar.ivoox.com/es/podcast-consultor-desarrollador-web_sq_f1622538_1.html
Apple Podcast (Itunes): https://itunes.apple.com/ar/podcast/consultor-y-desarrollador-web/id1438230983?mt=2
Spreaker: https://www.spreaker.com/show/emprendedores-y-freelancers
Spotify: https://open.spotify.com/show/3yxFHne9ULZyJLiHucrmcW?si=rDNv36bUShKA1Ksr3n_jgA
---
---
¿Todavía no miraste el MEGA LISTADO de herramientas para freelancers y emprendedores?
---